Hey lads,
I've asked this elsewhere but I'm hoping to get more definitive answers.
Are there any records of captured FIREFLY Shermans getting a German Dunkelgelb camo paint job? Best I can come up so far is this photo:
Which I'm guessing that this dragon kit is based off: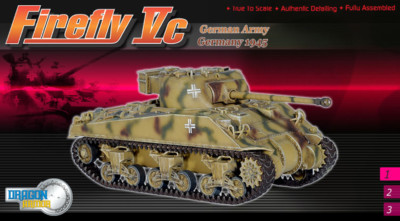 I have one of Dragon's early attempts at a Firefly (#6121) as a freebie in a deal but did not get decals to go with it. I have a few spare German crosses that I could place on it - but I was hoping I could do a paint job other than Olive Drab on it. Thanks folks!
EDIT: I forgot to add this one other photo. There's a lot of spare tracks on it though so I might not have enough out of the box.