Hello! I see that there has been a
bit of interest
in Takom's M9 ACE model on this forum and knowing that the modeling community appreciates historical accuracy, I thought I might shed some light on the real life mission that inspired this model. I only just recently became aware that this model exists, but I cannot tell you how excited I am to find out about it. Long story short, as a Specialist in the U.S. Army, I took the
photograph
that Takom used for inspiration during my 2006-2007 deployment to Ramadi, Iraq. I deployed to Iraq with C. Company 9th Engineer Battalion, 1st Infantry Division as a Combat Engineer 12B. While I was there I briefly took interest in contributing to wikipedia. The
M9 ACE wikipedia article
has two photographs that I contributed, the Dirt Diggler photo and also a
photo
of an ACE with with its apron lifted ejecting dirt from its bowl.
The mission we were on that particular day was to install a Observation Post (OP) between Camp Ramadi and Combat Outpost Steel along Route Spear, one of the worst roads in Ramadi in terms of the IED threat. This was part of a larger operation at the time to install a number of OP's along Route Spear to make it harder for the enemy to install IED's. It's interesting to note that COP Steel was discussed in Marcus Lutrells's (of lone survivor fame) second book "Service: A Navy Seal at War" about his second deployment to Ramadi, Iraq. We didn't know he was in the city with us at the time, but he pretty much blamed his convoy being struck by an IED on Route Spear on our Task Force.
The Dirt Diggler photo was taken the morning we were assigned to build OP Blood, we had spent the morning staged to go at a yard in Camp Ramadi. After having waited quite some time for the order to move out a bored and rebellious M9 ACE operator named Nate pulled out a can of spray paint and shocked everybody by graffitiing his vehicle with the now famous "Dirt Diggler" name. The second ACE operator followed suit and painted his vehicle to say "The Quicker Picker Upper, Bounty". Upon seeing the graffiti, our chain of command nearly lost its collective minds, because spray painting a military vehicle isn't received much better than graffitiing a building. I stood at a distance and watched as everybody in Nate's chain of command took turns exploding at him with shocked rage at what he had done. He later told me that our First Sergeant had among other things, threatened that if the paint was still there after the mission, Nate would be removing it with a tooth brush. Naturally as a lower enlisted man I thought this was all very funny and made a point of taking several pictures to preserve the incident.
We ended up constructing OP Blood without any incident and luckily for the two M9 ACE operators the spray paint rubbed off almost the instant the dozer blade touched the dirt. No one was punished for the the graffiti and the rest of the company's ACE operators took notice of this and it became a bit of a tradition of ours to graffiti the dozer blade prior to each mission, unfortunately it doesn't look like I took photos of any of the other designs.
This photo is the unedited version of the
photo I posted to Wikipedia
. When I originally posted it I cropped it and also removed the bumper markings on the advice of an NCO because of operational security concerns at the time.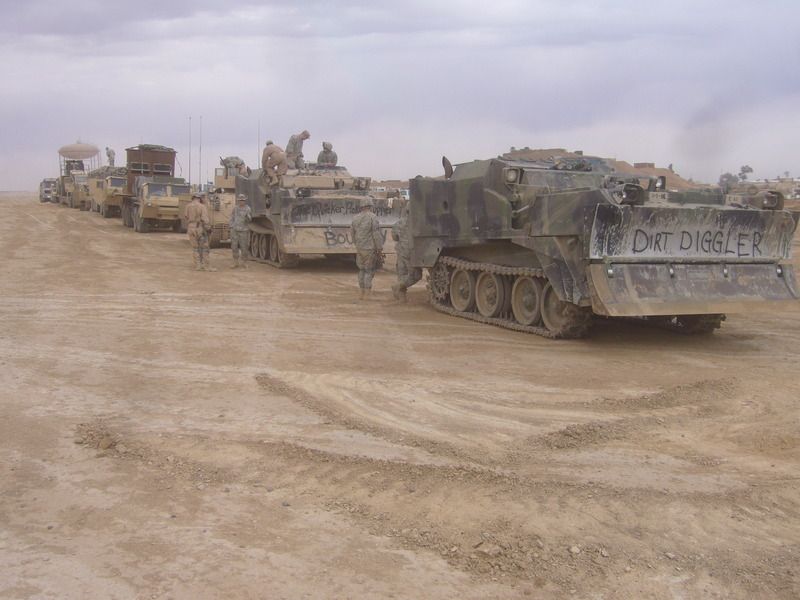 Here's another view of the two M9 ACE's.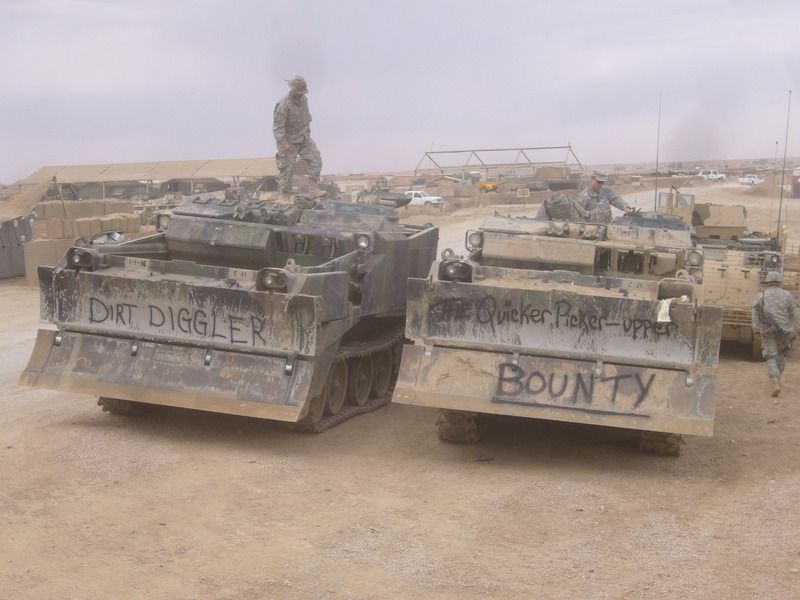 Here's a few pics of "Dirt Diggler" working at OP Blood, I'm not sure what he was assigned to do that day; he was either leveling out the ground or perhaps heaping soil for the loader to use for filling Hesco Bastions.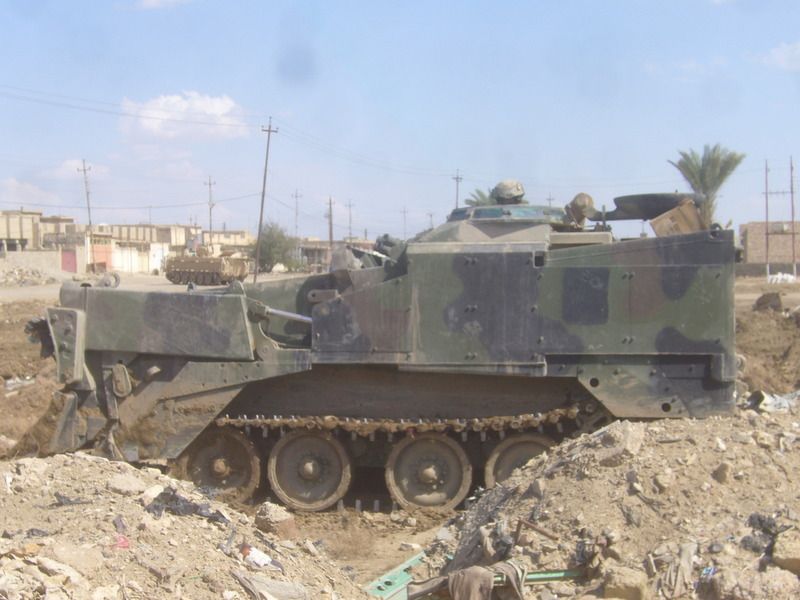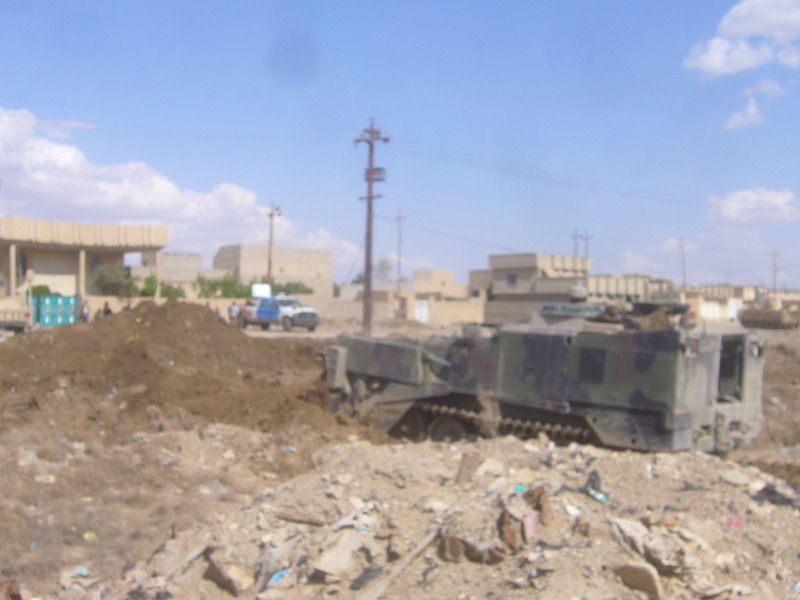 Here's a pile of junk Nate built with "Dirt Diggler" that day, he was quite proud of it calling it his "Sculpture" and insisted that I take this picture for him.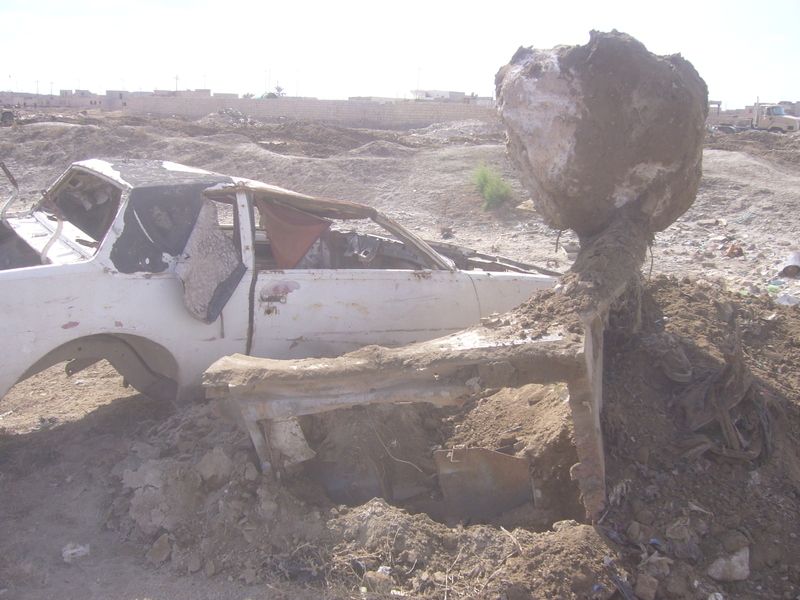 Here's some Iraqi Army Engineers using their loader to fill Hesco Bastions at OP Blood.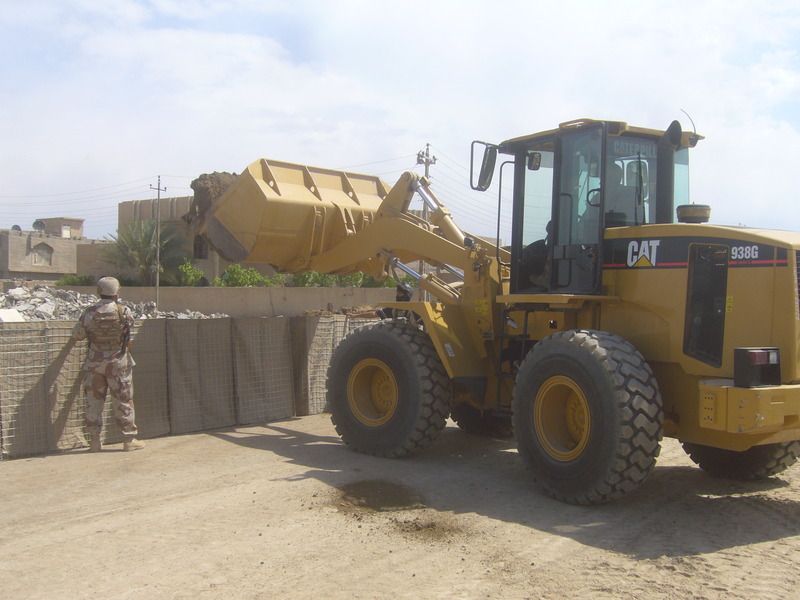 Installing a crows nest at OP Blood.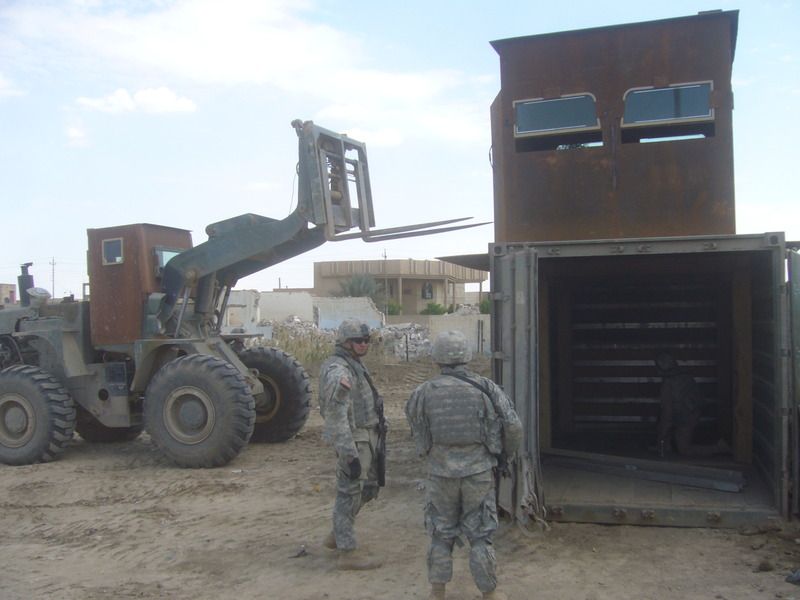 The completed OP Blood two days later.