Step 19B, continued
Thanks, JJ. And here's your latest update!
Sort of had a marathon session yesterday, in that I spent 3-4 hours assembling and installing lines A9 & A10 (Travelling guy), A11 & A12 (Guy pendant), and A13 & A14 (Flying jib boom guy). The worst problem was, I really couldn't figure out where the thread stopped & started on the pulleys, so I sort of winged it. And in the pictures, the end of all those threads are not permanently attached (yet), I just looped them around where it looks like they terminate on the jib boom.
I put all this together "on the ground" - if I had tried to attach this rigging with the rings attached to the ship, I would have smashed something (either the model, or my head against the wall). So here's the latest pics:
This picture shows all the rigging putting together, and the guys attached to the blocks. Like I said, if I had tried to do this with everything attached to the ship, it would have been a nightmare:
Here's a close-up of the starboard side lines attached. The rings that are attached to the beakhead bulkhead wound up being horizontal; that's just because of the tight space that they got installed into. The port side rings are more vertical (could be, because I'm left-handed, and it was just easier attaching the rings on the port side):
And here's a top view, showing port & starboard lines attached to the bulkhead: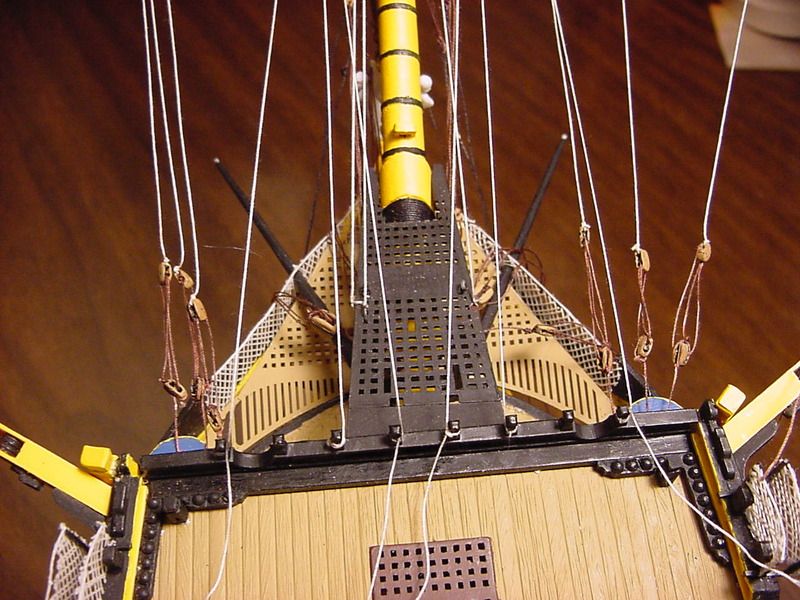 And lastly, a view of about where all the guys lines get attached to the jib boom. On the starboard side, I have the outermost guy looped around the end of the spritsail boom; this was done just for convenience. All three lines pass over/through/around the boom about half-way between the end of the boom and the bowsprit (the port side is more accurate):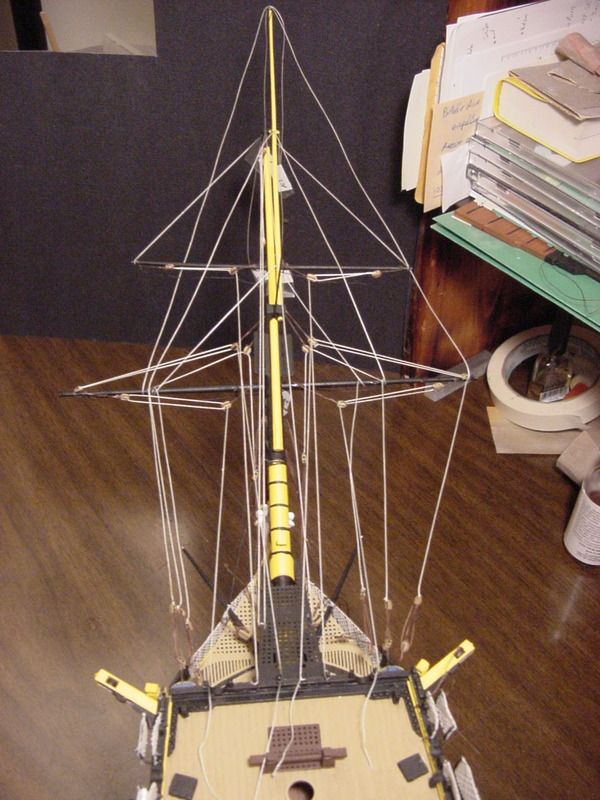 So today, if I work on this thing, will be to finish attaching the guy lines, then study the instructions to see if there's anything else that I can do before moving on (and I just realized that yes, there is some more to do). I also wanted to give enough time for the glue to get good and hard on the rings, before I start putting tension on those guy lines. It would just suck, if the rings popped out when I'm trying to tighten up and secure those guy lines.
Happy viewing!! Don't forget to turn your clocks back tonight (for those of us in the U.S.)