The question comes up often on the forum as to what types of Black Hawk helicopters were used by the 160th SOAR (Special Operations Aviation Regiment) in Operation Gothic Serpent, Somalia, Oct 3-4 , 1993. It was also called the Battle of Mogadishu or the Battle of the Black Sea and was made popular by the movie
Black Hawk Down
.
Info on Op Gothic Serpent Black Hawks collected from various crewmen who were there....
Doorgunner from the 160th who flew the mission on Oct 3-4 1993:
The Black Hawks were all MH-60s (a mix of A & L models), they were black with OD markings, no IFR probe, pilot doors were removed for missions, FLIR and Radar dome were fitted but not the angled missile detectors on the nose. No ESSS wings were used during missions, the AH-6Js were used for fire support. The internal fuel tanks were removed for missions due to small distances flown and to fit more passengers in the back. The aircraft's call sign was painted on the window of the cargo door on both side ,e.g. Super 68 had "68" painted on the windows. As for the crews, they all wore desert sand colored flying suits with a pistol usually on the thigh and their survival vest (unsure what type) and helmet, personal weapons were MP-5 or M-16 usually. M-134 was the only weapons carried, no .50 cals and the miniguns were fed by 2 individual 20mm ammo boxes, one per gun, not the huge central one like in the Academy MH-60L kit.
From another crewman:
1) The 160th MH-60s didn't use internal aux tanks as the ranges flown were minimal, and they were primarily configured for max pax. Some of the regular Army UH-60s used ESSS and the MedEvac UH-60s as well.
2) There are actually two internal aux tanks mounted side-by-side against the rear bulkhead. Sometimes we use only one, sometimes both, and sometimes neither. The mission and environment dictated how many.
3) Since we're talking about Gothic Serpent, only the M-134 miniguns were used. Every insert bird also carried two (sometimes 3) Delta snipers. The D-boy snipers used M-25s (accurized M-14s) M-4s and I think a saw a couple SR-25s or AR-10s.
4) While the 160th guys brought two DAP kits with them and even used them for training (to keep currency, etc.) they were never used operationally during Gothic Serpent. For that fact, I don't remember ever seeing an MH-60L using ESSS during my deployment there.
5) Weapons, a personal thing for each crewmember. MP-5s were sometime carried in thigh rigs but were generally stowed up front somewhere. Crewchiefs had M-4 carbines and M-16A2's usually stowed behind the pilots' seats but they were also stowed elsewhere. We stowed them hanging off the webbing on the H-bar directly over the minigun ammo bins. All crewmembers also usually carried at least one pistol (issued M-9, but some had Sigs and M1911s) in a thigh rig or in a vest holster.
6) IFR probes were not used in Gothic Serpent for the same reason as Item 1, and that the only refueling assets were two USMC KC-130's based out of Mombasa Kenya, but I think they left when the Marines left prior to Gothic Serpent.
I vividly remember that some MH-60s had the nose radar and some did not. All had the FLIR turret mounts but didn't have FLIR installed for every mission. There were no plume detectors that I saw but each one had nose and tail mounted APR-39 radar detectors.
Pat Powers crew chief Super 65:
"The aircraft always flew with the cockpit doors off. Super 61 had a hoist mount, but no hoist was installed. It would be a U shaped piece of metal about a foot long and about a foot forward of the right hand engine air inlet. One other thing, the fairings around the main landing gear strut weren't installed on any of the Blackhawks in D Company and cargo hooks weren't installed on the aircraft. There was a tube, about 3 inches in diameter installed in its place. The tube had 4 rings (in a clover leaf pattern) attached to it in the center. The system was installed in place of the cargo hook for securing the aircraft during fixed wing transport of the helicopter..."
Aircraft info:
Two MH-60Ls shot down in Mogadishu.
Super 61 91-26324
Super 64 89-26188
Two additional aircraft damaged and able to land (controlled crash) under own power.
Super 62 83-23882
Super 68 90-26288
OGS Aircraft:
Super 61 was named 'Thunderstruck' 91-26324 Walcot's bird, nose radar, FLIR, hoist
Super 62 was named 'Black Widow' 83-23882, no nose radar, FLIR, hoist
Super 63 was named 'Grim Reaper' 90-26257, nose radar, FLIR, no hoist, hoist mount installed
Super 64 was named 'Venom' 89-26188 Durant's bird, nose radar, FLIR, hoist
Super 65 was Named 'Heavy Metal' 83-23887, no nose radar, FLIR, no hoist, no mount
Super 66 was named 'Gun Slinger' 91-26363, nose radar, FLIR, no hoist, no mount
Super 67 was named 'Texas Express' 83-23924, no nose radar, FLIR, no hoist, no mount
Super 68 was named 'Razors Edge' 90-26288, nose radar, FLIR, no hoist
- All helos had the numbers painted on the front cargo door of each a/c except 63.
- 63 had the internal aux tanks installed for longer loiter time. She also had the C2 radio console installed in between the crew chief seats.
- 64 had a life raft package in between the crew seats so I assume all the helos had them.
- All had faded OD green floor armor on the floor.
- All had the standard antenna package including the towel bar. 63 & 64 had an additional antenna on the tailboom. Also 63 had commo antennas on her since she was C & C.
Super 61 & 62 had Special Forces on board
- Super 62 - carried Shughart and Gordon
Super 63 was the C2 (Command and Control aircraft)
Super 64 through 67 were filled with Rangers
- Super 64 - carried chalk 1
- Super 65 - carried chalk 2, led by 1LT Thomas Di Tomasso
- Super 66 - carried chalk 3
- Super 67 - carried chalk 4
Super 68 was the Combat Search And Rescue (CSAR) aircraft.
OPGS aircraft from a 160 SOAR crewman:
I am sure I am going to leave a couple out. These were from my platoon. Some were the MH-60A others were MH-60L. Most were DAP capable.
MH-60As
83-23839 - "Iron Maiden"
83-23853 - "Bat Copter" - Batman logo on engine cowlings
83-23882 - "Super 62"/"Black Widow"
83-23887 - "Super 65"/"Heavy Metal" - Unit had to give ACFT 908 to a sister unit. Crew chief took the engine cowlings off of 908 and put them on 887.
83-23908 - original "Heavy Metal"
83-23924 - "Super 67"/"Texas Express"
84-24000 - "The Liberator"
84-24010 - "Bounty Hunter"
85-24395 - "The Predator" - 1st ever DAP
MH-60Ls
89-26184 - "Flatliner" - 1st L model DAP
89-26186 - Original "Super 62"/"Rude Dude" down for maintenance on 3-4 OCT '93
89-26188 - "Super 64"/"Venom"
90-26257 - "Super 63"/"Grim Reaper"
90-26276 - "Dirty Deeds"
90-26288 - "Super 68"/"Razor Edge"
91-26324 - "Super 61"/"Thunderstruck"
91-26363 - "Super 66"/"Gun Slinger"
91-26360 - "Thrasher"
Super 64, 160 SOAR, Michael Durant's bird.
Durant's Blackhawk was Super Six-Four. It had 64 painted on the front cabin door windows. As for the helicopter's nickname, Durant never referred to it in his book other than Six-Four. Looking at the photo of his crew posing with the helicopter, on the right engine nacelle (looking forward from the pilots' positions, there is a word written in what looks like Arabic under a square root symbol. It is hard to make out, but in another picture, this time of 64's crew chief Tommy Fields, you can make out the bottom half of the left engine nacelle. "VENOM" is on the nacelles, with the V forming the left leg with a line extending across the whole word so it looks like a square root sign.
Also from Durant's book:
"Tommy, in his late twenties, had a race car back in his garage in Lisbon, Maine, and he treated 'his helicopter' no differently from that hot rod. The wheels were always slick with Armor All, the windshield washed after every mission. There wasn't a drop of oil on that thing." So you don't have to dirty the model up too much to accurately represent the real thing.
Pilot of Super 65 CPT Gerry Izzo. It has some great info on Super 62, 'Black Widow'.
"Super 62 was the Black Hawk that put in the two Delta snipers, Sergeant First Class Randy Shughart and Master Sergeant Gary Gordon. They were inserted at crash site #2 (Super 64). Shortly after Gary and Randy were put in Super 62 was struck in the fuselage by an antitank rocket. The whole right side of the aircraft was opened up and the sniper manning the right door gun had his leg blown off. The aircraft was able to make it out of the battle area to the port area where they made a controlled crash landing. (This is not depicted in the movie.)"
Super 62 "Black Widow" 83-23882 after being damaged by an RPG to the right side gunner's station after dropping off MOH awardees Shughart and Gordon at the crash site of Super 64.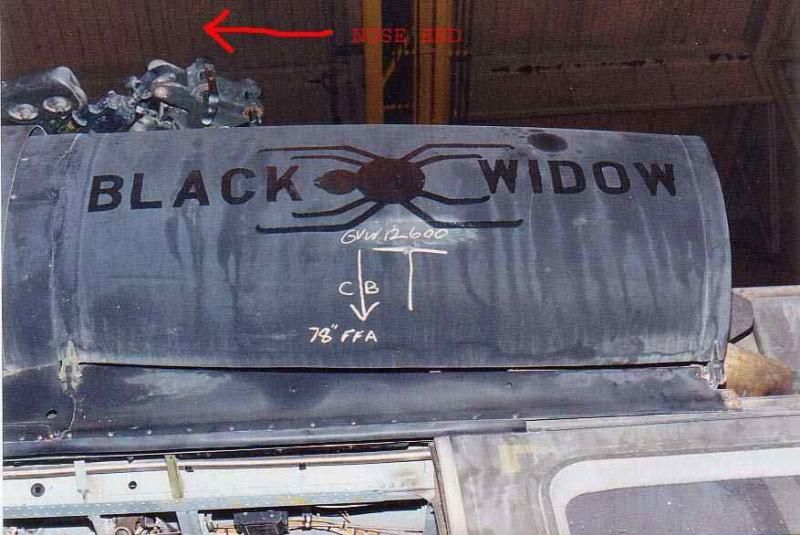 The gunner's station damage.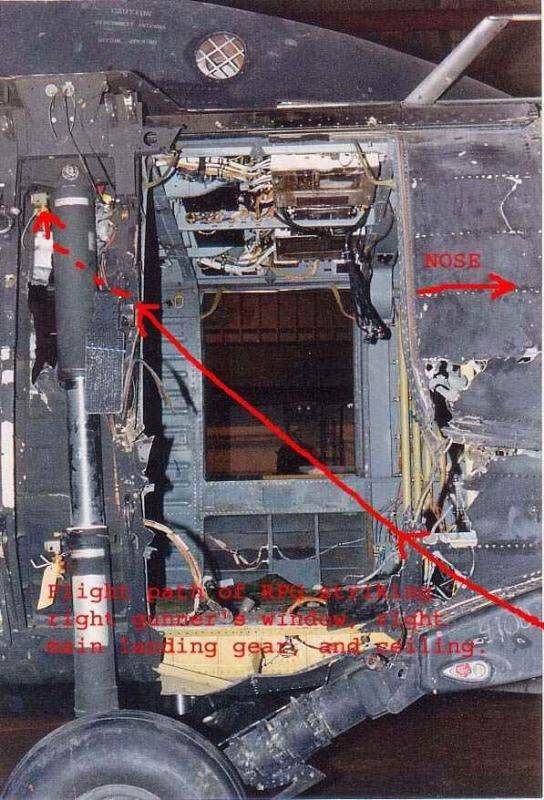 Unfortunately, the gunner lost a leg in the engagement. The aircraft was able to stay in the air long enough to make an emergency (controlled crash) landing at the Port of Mogadishu and evac its wounded.
Super 62 as it sits now. Pics were taken on 19 Nov 2009.
She is now an MFO bird in Sinai, Egypt. Multinational Force & Observers is an independent organization established in 1979 during a Peace Treaty between Egypt and Israel to monitor and enforce peace in the Sinai peninsula and keep the Suez canal operating w/out obstruction.
More info:
MFO website
The Hi-Vis orange and white paint scheme is used to make the aircraft easily identifiable as neutral and a member of the MFO mission.
More info on Super 68 "Razor's Edge"
Retired Air Force Master Sgt. and Pararescueman Scott Fales received U.S. Special Operations Command's highest honor when he was awarded the 2012 Bull Simons Award in Tampa, Fla., May 23...
In August of 1993 Fales was assigned to Task Force Ranger in Mogadishu, Somalia. On the fateful day of Oct. 3, he led the search and rescue of "Super 61" a Black Hawk helicopter shot down by a rocket propelled grenade. Fales and fellow PJ, Tech. Sgt. Timothy Wilkinson, who would earn the Air Force Cross for actions at Mogadishu,
were flying in "Super 68"
toward the crash site.
...
the helicopter they are fast roping from gets hit by an RPG
while they are on the ropes ...
This is MSG Fales w/ Super 68 in the Mog.
From another website
"Super 68 was hit in the rotor blades by an RPG."