Recently I discovered, that I havn't built a single USAAF or USN aircraft last year!
What a shame! To make it better, I started into 2013 with a really great aircraft and a nice kit. Today I want to show you my new Grumman F7F-3N Tigercat from Italeri, who reboxed that old AMT Ertl kit ....
.... the story of the Tigercat goes back to early 1941 when Grumman initiated the design for a new twin-engined carrier-based fighter to meet a request made by the US Navy. It was planned that these fighters should operate from the "Midway Class" carriers. The first of 2 prototypes made its first flight in December 1943 and Grumman had already received a contract for 500 F7F-1 for supply to the USMC. Due to a high landing speed, too heavy weight plus problems with the arresting hook and the tricycle landing gear the Tigercat failed carrier trials and it was decided to give them to land based units. In fact, the Tigercat came too late to see action during WW2. Of the F7F-1 single seater were only 34 machines produced, after that came the F7F-2, the first twin seater night fighter. Next version was the F7F-3, which had better engines. The F7F-3 was used as a day fighter, night fighter and for reconnaissance. Only 364 Tigercats of all versions were build between 1943 and 1946, 60 of them were F7F-3N night fighters. It only saw action during the Korea War and was retired in 1954. Today there are only very few of these fast aircrafts left in airworthy condition (3 or 4 I think). The Tigercat was powered by 2 x P&W R-2800 engines with 2100 hp each, which gave the aircraft a top speed of 700 km/h at 6700 meters. The armament of the night fighters were 4 x 20 mm canons in the wing roots ....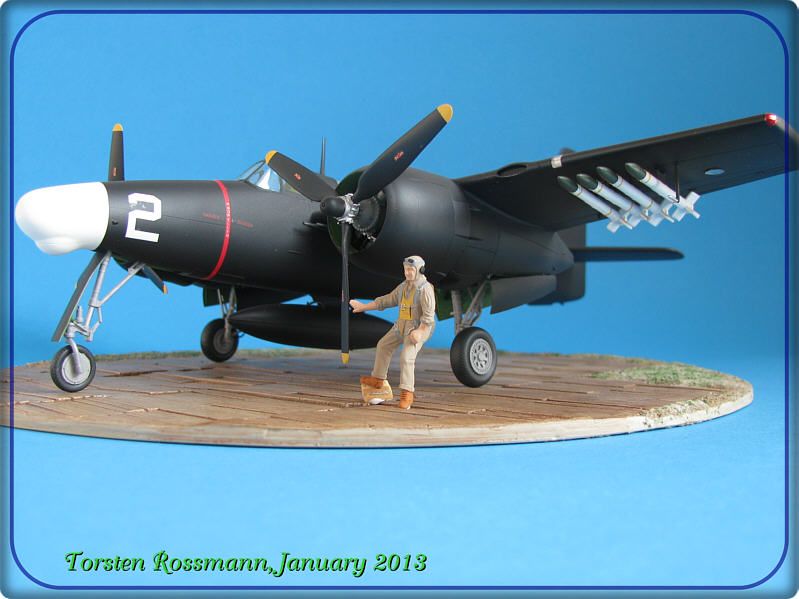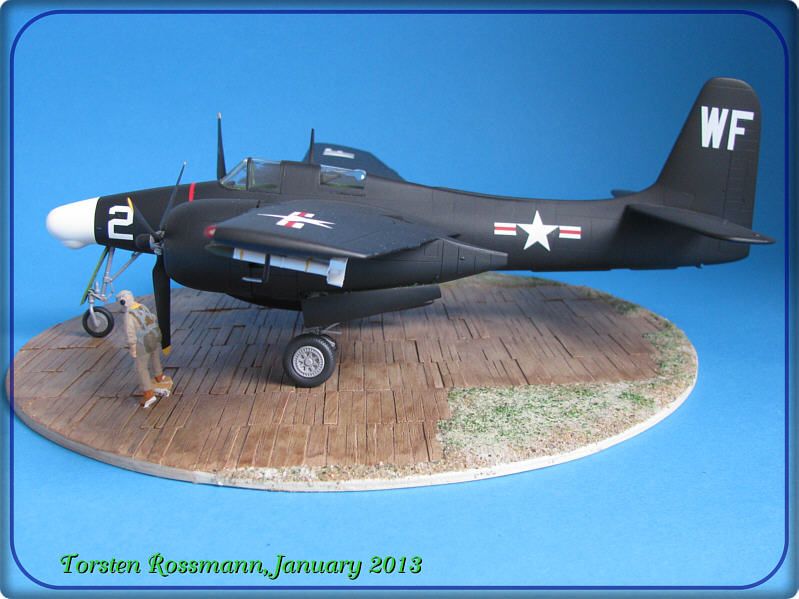 .... I heared so many bad things about this kit because of the fitting and I must say, that is all not true! I really enjoyed building it and there was no filler needed. Honestly! Everything fits perfect except for the main landing gear. That was really tricky to glue in the engine nacelle. It took me quite a while but somehow I succeeded
I was amazed to see how the wings fit to the fuselage. There are little hooks at the wing parts to hold really tight to the fuselage. Not a crumb of filler was needed here. But the cockpit looks quite rudimentary so I kept it closed. Because I don't want to have a tailsitter, I put a lot of weight in the nose. Just the fuselage weights 80 grams ....
.... Italeri offers 4 decal versions for this kit, 3 of them from the Korea War and one early post war in blue. I decided for the most "colourful" bird from VMF(N) 413, Kangnung AB, Winter 1951/52 in Korea. There are no stencils coming with the decals. The paints I used are mostly again from Revell. Black is No. 302, White is No. 301 and Interior Green is No. 360. Final coating was made with a 50/50 mix of Satin and Matt varnish from Marabu. And again no weathering as usual ....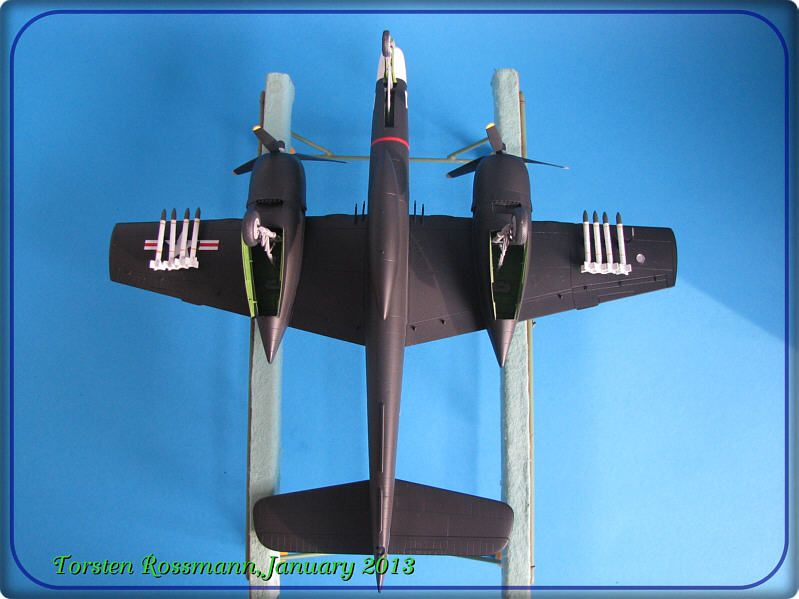 .... Italeri still offers this kit in their program. I say thanks for walking around this big black cat with me and
enjoy the music!
Happy modelling!
Torsten