Ahoy Mates,
As I am currently involved in building up a 1/700 scale USS Baltimore for the "Cruisers of the 20th Century" Build Along, I have been searching out references to help in detailing out the model a bit. While I do have a couple of Photoetched sets, one Gold Medal Models and one Toms' Model Works set, they do help out in the respect of adding common items like rails and ladderways, radar set ups, range finders and that sort of thing, ships have a whole lot of things in addition to that. You can find ship plansets from various locations about the net that will go a long ways in detailing up your vessel of choice, but then those do cost, sometimes a pretty penny.
When I get ready to build a ship, I usually surf about a bit and consult various sites that are dedicated to the general class of vessel, in this case a Cruiser just by putting the name and number of the ship in the search box and then check out what comes up. Sometimes it will refer you to the usual Naval sites that most of us are familiar with, sometimes it will take you to a specific ship site on the net put up by former crew members, sometimes it will direct you to a model that someone else has crafted, and then sometimes you draw a blank.
As in the case of most US Navy vessels there are numerous images out there that you can download into a picture file and build up a lot of information just on visual evidence alone. I also have a desktop picture changer that I got from the Microsoft site as a freebie, it first came out as a bonus toy in one of the funpacks and has proven to be rather popular so they have kept it around in one form or another. You select the file on your computer and it swaps between the various pictures and pops them up on your desk top in a rotation that you can set anywhere from 15 minutes up to hours, it also blows them up to considerably larger than what you get or downsizes them a tad to fit on there. This has proven rather handy in showing me a number of things on various builds in the past.
While most everyone is familiar with Adobes' Photoshop programs either in use or by name alone, manipulating images is one thing that you can accomplish by other and much less expensive means. I use Paint dot net, a freebie that can do a lot of things rather quickly, I use it to crop, resize and manipulate all the images that you see on my posts. But it can also be used to isolate particular sections of a ship in a photo that you may want to add some pizzaz to.
While working on the USS Baltimore the other night a set of images that I had gotten from one of the Cruiser sites caught my eye when it drifted across the desktop. There are six Quad 40 MM Bofors towers, three per side on the ship. Being that my model is only a 1/700 scale critter, these are basically little rectangular box shapes with a mounted set up on top in a tub. I was impressed that Trumpeter had actually included some treadplate in the bottoms of each tub, but the sides of the towers are just as plain as can be. Seeing what they actually looked like in the photo got the gears to spinning in the old Mark I computational device between my ears.
To start with, the photo section in question is this little bit here.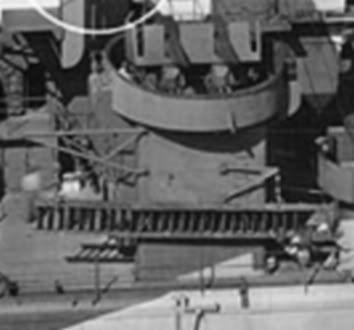 As you can see, there are ammo handling lifts on either side of the towers, the model does include them, but they are just shapes on the sides. Atop each one is a small section of rail, at the bottom is a little more detail and there are a pair of swinging frames, that in this instance are holding a boarding ladder section, on the face of the tower. There is also a section of conduit and a lamp that is on one side that I picked out from another photo as well as a port hole in the face that the ladder section is hiding in this shot.
To come up with the railing bits that are atop each of the 12 lifts will require a bit of work, but I will show you how to make this relatively painless in the next installment by way of a home made jig. The swinging frames are just going to be a little bit of stretched sprue added with a set of PE small boat rigging lines attatched. So just keep watching.