Hi guys,
Have been having some thoughts for a while on doing a little dio on the battle of Crete, as its a compeling story and having visited the island twice has a personal interest. I've recently decided to tie in the idea with my long time desire to build a Matilda as a few were used to defend the island, however i'm having some trouble on getting information on the tanks used.
The idea is to have a knocked out Matilda being used as cover for advancing fallschirmjager, these will be from DML's Gen 2 Fallschirmjager Holland 1940 kit as the equipment used is near identical.
I'm planning on using the old Tamiya kit as its the only one available and I beleive the upcoming ICM kit is supposed to be a Mk.IV? Although i'd be interested on any more info about this as perhaps a kit bash could be in order?
The info I have so far is that there were 9 Matilda's present on Crete, and dispersed around the island to defend airfields and the like. These were from B squadron of the 7th Royal tank regiment and were supposed to be dug in, although at Rethymon airfield and elsewhere commanders decided to use them in their mobile role, although they were hamperd by a lack of HE ammunition. I beleive they were Mk. IIA versions and had seen action in Lybia beforehand and were somewhat 'used' when they arrived on Crete. I have read a couple of accounts of the combat at Rethymon airfield where two Matilda's were used but little of the other 7. I beleive a couple were used as a rear guard to the allied evacuation of the island?
I have found two pictures of Matilda's on Crete, which I beleive to be in the caunter scheme (note the diagonal line along the armoured side skirts), although I can see no evidence of any markings. I'd appreciate an experts opinion on these and any mods I may need to make to the Tamiya kit.
My limited knowledge tells me that the rear external fuel tank is absent, and the mantlet is the later type without the extended armoured cover over the co axial BESA, im thinking of getting the armourscale barrel and mantlet which should rectify this.
Here are the pics, I'm fairly certain they are of the same Matilda: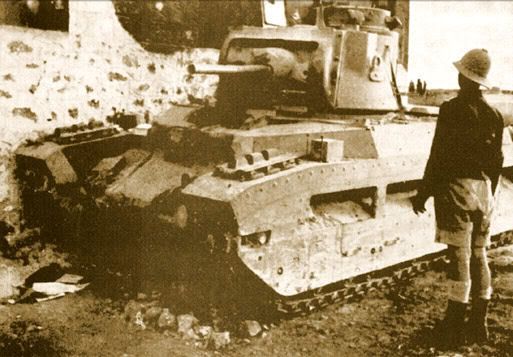 To help me with some of the more basic fixes to the Tamiya kit I have Steve Zaloga's article on converting a Matilda to a BEF version, some of which is relevant and some which isn't.
I also know Eduard used to do a PE set which is now OOP (No. 35099) does anyone have a spare or knows where I can get one? Is it worth getting for that matter?
I'd appreciate all help and suggestions.
Cheers,
James